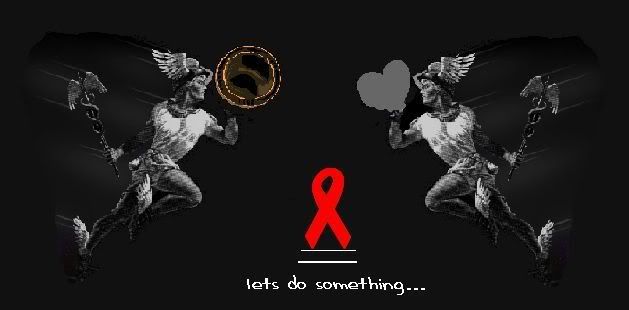 This is not as serious as you might think.
I'm actually in the mood to cheer! To support a cause! Whatever cause it might be. A good cause obviously. So this is something I've done about AIDS. It's nothing. I'm just showing off. hihi
But here's a note from me to the thousands of young people(underestimation) reading this blog; go to hell!
Oops that wasn't me.
Actually I know it's been said a thousand times. But
Be careful!

Use condoms
never tell your parents about it, not even your grandma
brag about it (how often and with whom)
Ok I was just kidding for the last one. Don't have multiple partners, please. You're putting yourself in a terrible situation when doing this.
Yeah you are right, this is not the AIDS week or whatever and most importantly I believe that if you are reading this you are intelligent enough to know how to save your own damn dear life from dangers of AIDS isn't it?
So long ladies and gents and my confused aliens!
Estimated number of people living with HIV/AIDS by the end of 2005 in
Mauritius
:
4,100


Powered by
ScribeFire
.